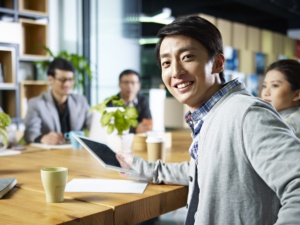 By Katie Knutson
We all know fall means plaid shirts, pumpkin spice lattes, and recruiting season! If you've landed a job or internship, chances are that your start date is a few months away. However, this doesn't mean you get to relax and prop your feet up! And, if you didn't land a job, there are things you can do during the "off season" to better your chances of landing something next recruiting season (or, perhaps, before then).
Stay in contact with those you've met over recruiting season. You've probably met a good number of people from various firms and at different levels. Make sure you keep in contact with them...you never know when a job opportunity may pop up! They will also be good to have in your network once you begin your career. Sending them an email to grab coffee or congratulate them on a promotion is an easy way to keep the relationship going.
Keep your LinkedIn profile up-to-date. It's important that you keep your LinkedIn current with your accomplishments, classes, and that oh-so-important profile picture, even if you aren't actively looking for a job. Just because you landed a job doesn't mean that others aren't still viewing your profile, so make sure to put your best foot forward at all times. Remember to connect with new people you meet at the numerous recruiting and networking events you've attended.
Continue going to Beta Alpha Psi meetings. Sure, skipping meetings here and there may provide you a little extra time to study, but it's important to keep relationships with your fellow Beta Alpha Psi members, attend firm meetings, and participate in volunteer opportunities (like VITA). It allows you exposure to firms and the ability to form bonds with your fellow members, who you may want to keep up with as they grow their careers.
Check your email. Many of us have multiple email accounts and it's easy to forget to check the professional or school email you have listed on your resume and LinkedIn profile. Have all your accounts forwarded to the one you check most often or make a note to check them all on a regular basis! It's crucial not to let any communication slip by, whether it's from your new employer or one of your interviewers reaching out! Trust me, you don't want to realize in January that you were invited to the holiday party, but never saw the email.
Recruiting can be a fun process and it's important to remember that it can, and often does, happen all year long. So, happy never-ending recruiting season!