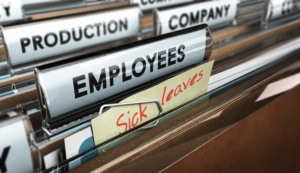 by Amy Efroymson
In 2016 Washington voters approved Initiative 1433, which made changes in the state's minimum wage and paid sick leave policies. As a business owner, or employer, it is imperative that you are in compliance with these new laws as of January 1, 2018.
*It is important to note that some cities (including Seattle, Tacoma, and Spokane) have separate leave laws that are more generous than the Washington state law. In those cases the more generous provisions must be followed.
New Paid Sick Leave Requirements under the law (according to Washington State Department of Labor & Industries) :
Beginning Jan 1, 2018 employers are required to provide sick leave TO MOST employees (see exemption details below)
Employees must accrue paid sick leave at a minimum rate of 1 hour for every 40 hours worked. This includes part-time, temporary, and seasonal workers.
Sick leave accrual is earned on regular AND overtime hours.
Paid sick leave must be paid to employees at their normal hourly compensation rate.
Employees are entitled to use accrued paid sick leave beginning on the 90th calendar day after the start of their employment.
Unpaid sick leave of 40 hours or less must be carried over to the following year.
Employees re-hired within 12 months of separation must have previous sick leave accruals reinstated.
So, under what conditions are employees allowed to use this new sick leave? The state says:
To care for their health needs or the needs of family members (this includes a registered domestic partner, adopted/adoptive family members, foster children, "de facto" children, stepchildren and legal guardians.
When the employees' workplace or their child's school or place of care has been closed by a public official for any health-related reason.
For absences that qualify for leave under the state's Domestic Violence Leave Act.
Sick leave can cover mental illness, preventative medical care and maternity related absences.
As an employer you may require verification that sick-leave absences of more than three days are for authorized reasons, but you must have a written policy in place covering this verification process. In addition, you may require employees to give "reasonable notice" for absence from work under paid sick leave state law. For doctor's appointments that means at least 10 days notice "or as early as practicable."
The new law allows for employers to provide employees with more generous carry over and accrual policies, as well as the right to use paid sick leave for additional purposes.
Eligibility
Under the new law, most employees are eligible to receive paid sick leave. There are, however, some exemptions including those whose jobs make them exempt from the Minimum Wage Act. Examples include doctors, lawyers, and dentists who are employed in their "applicable professional fields", as well as most executive managers paid on a salary who supervise two or more full-time employees. You can get more information on specific employee exemptions in here: Administrative Policy Es.A.1, Minimum Wage Act Acceptability.
Recourse
So what happens, under new law, if an employee who is taking paid sick leave is caught out on the golf course? According to employer defense lawyer, James McCanna- not much. "The payment for the sick leave can be withheld- but it cannot be deducted from the unused sick-leave hours the employee had legitimately accrued. You'd better be sure that discipline of that employee is well documented and you have strong evidence to support it, because they can turn around and say- 'I was not at that golf course.'" The employee can then file a complaint with the state Department of Labor and Industries.
It is highly recommended that your business create a personalized manual reflecting your policies in compliance with these new laws. For complete notification requirements click here.
Resources for Employers
Paid sick leave tools, training and other resources are available in L&I's online Employer Resource Center here.
For frequently asked questions and answers on the new sick-leave law compiled by the Washington Department of Labor and Industries click here.
As always, questions regarding these and other laws and how they affect your business can be directed to your Sweeney Conrad associate at 425.629.1990.