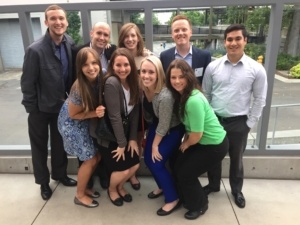 by Tenly Krakoff
At Sweeney Conrad, our campus recruiting program isn't just a one-week-per-year venture. We have a devoted recruiting team and target specific universities to find the "best of the best" student candidates. We know what sets us apart from other midsized firms, and our thoughtful, strategic approach helps students learn what's unique about us and determine if we're a good fit based on our size, culture, and career growth opportunities. Here's how we do that:
We have designated ambassadors for each university. It's great for students to have one member of our firm who can answer questions and provide more information about what it's like working at Sweeney Conrad.

Jamie Gardner – University of Washington (Seattle and Bothell campus)
Justin Hoffman – Central Washington University
Jill Jamison – Washington State University
Tenly Krakoff – Gonzaga University
We attend on-campus activities so we can meet students face-to-face. You'll find us at "Meet the Firms" events, on-campus interview sessions, job fairs, Beta Alpha Psi club functions, and more. Our team understands the importance of getting to know students and future colleagues, and truly enjoys attending these events to share their experiences and give a peek into the Sweeney Conrad culture.
We have a successful tax internship program. This program gives students an opportunity to "kick the tires" on working at Sweeney Conrad during our busiest time of year. Yes, we work hard, but most students find we play hard too. And here's a secret: We like to hire our interns for full-time positions after graduation.
We volunteer for professional mentorships. A majority of our employees are, or have been, involved in a mentorship program with students. In addition to on-campus activities, this is another great way to get acquainted with students and share our knowledge to help them achieve success. And even if it's just a coffee date, it's our treat!
We organize community volunteer activities. Sweeney Conrad has partnered with the Beta Alpha Psi chapters in the Seattle area to offer community volunteer activities for students. Our associates volunteer with various charities throughout the year, and this partnership gives students the opportunity to fulfill their community service hours while getting to know some of our team members. Our next planned volunteer activity with students is scheduled for May 2017, but we're always open to inviting or partnering with students at events throughout the year.
We are AWESOME. No, we don't mind tooting our own horn. Accounting Today named us the #3 CPA firm to work for in the U.S. for 2015 and we've made the list again for 2016! We have a diverse and inclusive culture, offer flexible schedules, remote office capabilities, comprehensive benefits packages, competitive pay, opportunities to grow, and more. Many of our employees have spent their entire career with Sweeney Conrad, and intend to stay on board as we expand and evolve. It's an exciting place to work, and we truly consider our employees family. If you're a student interested in joining us, reach out to your campus ambassador or visit our website for details on opportunities and how to apply.