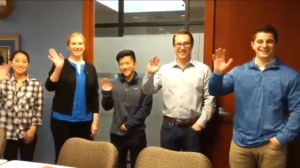 Left to right: Sakura Mamiya, Josie Parkhurst, Billy Tan, Tim Cotton and Ardian Adili
Interns... we couldn't do it without them. Every February, Sweeney Conrad hires tax interns who are absolutely essential to our busy season success. These hard workers dive in right away, immersed in a wide variety of clients and industries. They have the opportunity to work closely with shareholders, principals and mangers as well as receive extensive on the job training, coaching and technology training to set them up for career success.
We are excited to introduce our 2018 interns (listed in the order they are pictured from left to right). Three of these interns attended our first every SC Summer Summit last July (our second Summit happens this year on July 19th)! To get to know them a little better, we asked what they enjoy doing on Sundays in their busy season time-off:
Sakura Mamiya: Sakura is a graduate of Washington State University. Her favorite way to spend a Sunday is at home relaxing, watching a television show and eating some kind of delicious baked good.
Josie Parkhurst: Josie will be graduating from University of Washington's Bothell campus in June of this year. On Sundays she loves to go for a long run, brunch with her husband and son- and get wrapped up in a good movie.
Billy Tan: Billy is a graduate of Washington State University. He is currently attending Cal Poly State University pursuing his Masters in Taxation which he will be receiving in June. When he's not working (or studying) Billy likes to head to the golf range, and says recently he's taken up snowboarding (which usually ends up with him sliding down the mountain on his back!).
Tim Cotton: Tim is also a husky, with plans to graduate from the University of Washington Bothell in June of this year. He loves to bike and hike when the weather allows, and when not- he enjoys watching Netflix and playing video games.
Ardian Adili: Ardian is currently a student at the University of Washington Bothell, and will graduate in June. On Sundays he loves to watch football (Go Seahawks!) and hike the great trails of the Pacific Northwest.
We are thrilled to welcome all five interns to our team!