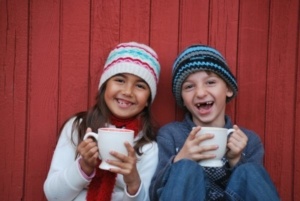 by Emily Taibl
It's the season of giving, and this holiday season Sweeney Conrad is excited to be working with LifeWire to put an end to domestic violence, and create a world where every person lives in a safe environment, free from oppression. LifeWire is a team of passionate, driven people who believe that domestic violence is a human rights issue, and that every person deserves the opportunity to thrive. For 35 years they have been making an impact in the Puget Sound area and standing up for those who sometimes cannot stand up for themselves.
The statistics surrounding domestic violence are staggering- 40% of boys who witness domestic violence go on to become abusive partners themselves- 1 in 3 adolescents in the U.S. experiences physical, sexual, emotional or verbal abuse from a dating partner. Domestic violence is a leading cause of homelessness for women and children in the U.S. today. In fact, 80% of homeless women with children have experienced domestic violence. In King County, the supply of affordable housing units can meet only 25% of the need of low-income families. LifeWire is changing these statistics every single day.
In 2016 ALONE this remarkable organization:
Provided homelessness and housing stability services to 229 families
Delivered one-on-one advocacy to 857 individuals
Educated and trained 10,740 members of the community, including 3,089 teens
Provided 981 hours of legal advocacy
Answered 11,050 calls to their 24-hour helpline
Served 111 survivors with mental health therapy.
LifeWire is truly making a difference in the lives of those who experience domestic violence, as well as making tremendous strides to end this vicious cycle.
This holiday season LifeWire is brightening the holidays for domestic violence survivors and families through their Holiday of Hope campaign. There are so many ways to get involved! Visit https://www.lifewire.org/holiday-hope-program/ to make a (tax deductible) cash donation and/or shop their Amazon wish list. Mail in gift cards (address is on the website) or donate gifts, toys and household items for their holiday store!
Check out all that LifeWire is working on and become part of this vital conversation. Visit www.lifewire.org for info, events and social media information.