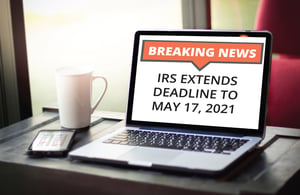 On March 17, 2021 the IRS announced an extension of the tax deadline for Individual Income Tax Returns (Form 1040) to May 17, 2021 from April 15. This extension applies to both the filing of the Form 1040 or the filing of an extension form. This also extends the due date for tax payments for individuals only for payments related to 2020 to May 17. This change does not apply to states, though it is likely some/all states will extend the deadline as well.
Please note, at this time, this change is only for the filing of Form 1040 and payments related to 2020. Other returns normally due on April 15, including trusts and corporations, are still due by their normal due date.
We will continue monitoring the situation and send out updates as they are announced. Please check our website for updates or reach out to your Sweeney Conrad professional. We are here to help.