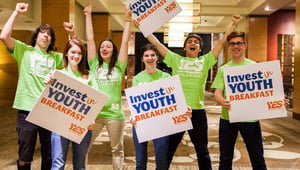 On March 20, Youth Eastside Services (YES) hosts its annual Invest in Youth Breakfast. This is a cause that is dear to Sweeney Conrad, as Tax Shareholder Duke Eide has been Treasurer on the YES board for two years and attending the breakfast (formerly a lunch) for over 15 years. "I think many people don't see the need on the eastside because there is so much wealth," he says. "But there are those in financial need and the issues that YES deals with affect youth from poor and wealthy families."
In honor of the breakfast, we caught up with Linda Reichenbach, President of the Youth Eastside Services (YES) Board of Trustees to find out more about what YES is doing in our community.
SC: Can you tell us a little bit about YES and its purpose?
LR: Founded in 1968, YES is a state-licensed Community Mental Health Center and state-certified Outpatient Chemical Dependency Treatment Program in East King County. YES provides comprehensive, evidence-based behavioral health services for children and youth from birth to age 22, and their families, regardless of the ability to pay. Services include: Youth and Family Mental Health Counseling, Substance Use Treatment, Treatment for Co-Occurring Disorders, Psychiatric Services, Early Childhood Behavioral Health, Community-Based Outreach, and Education and Prevention programs. Services are integrated into over 50 elementary, middle and high schools and teen/community centers in the Bellevue and Lake Washington School Districts.
SC: How are funds raised used at the Invest in Youth Breakfast used?
LR: Donations raised at the annual Invest in Youth Breakfast provide general operating support to help us meet critical community needs in the upcoming year. Over the past few years, the rates of young people reporting depression, suicidal thoughts and suicide attempts have increased significantly in East King County. At the same time, too many young people face serious health disparities based on income. While YES serves a varied demographic in terms of family income, the majority of our clients (63%) are low income, funded through Medicaid, city contracts and private fundraising (individuals, foundations, and corporations). For those unable to pay, YES provides free or low-cost mental health and substance use treatment services on a sliding scale that goes all the way to zero. These families are often uninsured, their medical benefits do not include enough mental health coverage, or they are unable to afford rising costs of deductibles and co-pays. YES also serves youth who seek services on their own (required and allowed by Washington State minor consent law defining age of consent as 13 and older) and cannot pay for services.
SC: What does being part of YES mean to you?
LR: I have been involved with YES since 2005, starting as a community volunteer serving on the YES Breakfast Committee and then joining the Board of Trustees in 2011. I am finishing up my two-year term as Board of Trustees President in May. My passion for this organization stems from my own experiences as a young person with mental health challenges and counseling. Simply put, counseling saved me. Mental illness and addiction cut us off from those things that give life meaning. Using evidence-based practices, YES is there to help every young person in the community who is struggling with mental health issues reach their highest potential. I especially value the fact that YES provides these services on a sliding scale basis – meaning no young person is left out because of their inability to pay. We are a stronger community because of YES.
To learn more about what YES is doing in the community visit www.youtheastsideservices.org.