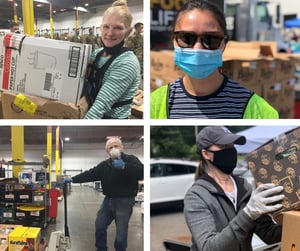 COVID-19 has had a tremendous impact on our community in a number of ways including creating economic complications for many families in Western Washington. We recently caught up with Nate Pedigo, Director, Corporate Foundation Relations at Food Lifeline to learn more about how Food Lifeline is working hard to fight hunger in our region, and for ways that we can help.
SC: Tell us about the mission of your organization.
Nate: Food Lifeline's mission is to feed people experiencing hunger today and work to end hunger for tomorrow.
We know, however, that simply feeding people isn't going to end hunger. Food Lifeline envisions a community where each person can participate, prosper and have access to food that is both nourishing and in keeping with their culture. We recognize that systemic injustices exist – such as racism and sexism – and that these create and perpetuate conditions that sustain poverty and hunger.
Ending hunger and poverty in Western Washington won't be easy. You can't erase 400 years of systemic inequity and injustice overnight. Food Lifeline is committed to developing solutions to hunger that are community-driven, honor a diversity of needs, and value everyone. Our food programs and public policy efforts aim to build a society where everyone can thrive – celebrating our differences and working together to overcome injustices that might divide us because no one should be hungry.
SC: How has COVID-19 impacted your efforts?
Nate: In the wake of the COVID-19 pandemic and our state's statewide stay-at-home order in March, Food Lifeline had to quickly adapt to dramatically increased demand for food. For perspective, hunger relief organizations serve about 850,000 people in Washington in a typical month. With the economic hardship caused by the pandemic, the number of food-insecure people in our state has doubled to 1.6 million people, with a high likelihood that it could reach more than 2 million people before the crisis begins to subside.
The pandemic has completely rewritten how Food Lifeline and our agency partners operate today. Historically, 85-90% of the food we source is donated. We source food from farmers, manufacturers, grocery stores and restaurants. Last year, we sourced nearly 60,000,000 pounds of donated food, enough to create 134,000 meals a day. We rely on a volunteer force of 18,000 who help sort and repack these donations into smaller, more manageable quantities for our agency partners. To illustrate the importance of this work, imagine a semi-truck delivering 10 pallets of onions from a farm in central Washington. That's 6,000–8,000 pounds of onions. A single food pantry could never receive this amount of produce, let alone a single pallet. Our volunteers sort and repack these onions into smaller quantities, typically into 20-30 pound banana boxes, after which our agency partners can order the volume of onions their clients will want for the week.
Donated food generally represents 4.4 million pounds of Food Lifeline's supply every month, but with the COVID-19 pandemic, those donations have dropped by 85%. In addition to the drop in food donations, our volunteers and many partner agencies closed because they too lost their volunteers due to the overwhelming need to keep clients and staff safe.
Today, because of disruptions in the food supply chain and the decline in donated food, Food Lifeline is purchasing 90% of the food we are distributing. This sees us competing in the commercial market to purchase most of the shelf stable goods we are distributing. To date, Food Lifeline has spent nearly $6 million dollars on food during the pandemic.
This food is going into emergency food boxes that is being packed by the Washington National Guard. Because we were forced to cancel all our volunteer shifts to help keep our volunteers safe, we have between 150-250 members building emergency food boxes 5 days a week in two separate warehouses.
Our agency partners have moved to a touchless distribution model where clients can walk up or drive up to pick up these emergency food boxes which are packed with 22-24 pounds of canned protein, fruits and vegetables and grains, minimizing their exposure to COVID-19. Because of the spike in demand for food assistance that has overwhelmed many of our agency partners, Food Lifeline has joined their efforts by creating drive- through distributions throughout King County, operating five community distributions a week.
To date, Food Lifeline and our agency partners have distributed more than 326,700 emergency food boxes.
SC: How can we (the community) help?
Nate: Donate. Volunteer. Advocate.
While supply chain issues are improving, we're still spending close to $1,000,000 a week to purchase canned/shelf stable items going into emergency food boxes. Your financial support will help to ensure individuals and families will have greater access to food by funding the continued assembling and distribution of emergency food boxes. Donate here.
Food Lifeline has many safety measures in place now to safely reopen our warehouses to our volunteers. Temperature checks, masks and social distancing are geared to help keep our staff and volunteers safe. Learn more about volunteering here.
Nationwide, food banks provide just 1/12 of the food SNAP benefits provide those living in poverty. As the federal government continues to cut back and dismantle programs that are core to our safety net, we need you to weigh in and let our legislators know this is unacceptable. You can subscribe to our Advocacy Newsletter and hear more about the steps you can take to protect SNAP and other food assistance programs geared to help lift people out of poverty. Learn more about advocacy here.