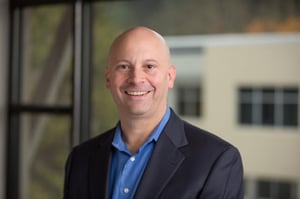 Effective January 1 of this year Dave Miniken, Sweeney Conrad Shareholder and Director of our Client Accounting Services department, became the Board Chair of the Bellevue Downtown Association (BDA). We sat down with Dave to find out a bit more about his BDA involvement.
Q: What exactly is the BDA and what does it do?
A: The BDA is an association of businesses and organizations with interests in Downtown Bellevue. The BDA's members include property owners, employers of every size, retailers, restaurants, and other service providers.
The BDA produces major community events, advocates for a shared vision of Downtown Bellevue, and generally tries to make the Downtown area a better place to work, live, shop, and play. The BDA puts on events such as the Bellevue Jazz & Blues Festival, a huge 4th of July celebration in Bellevue Downtown Park, the Live at Lunch summer music series, the 6th Street Arts Fair, and the Bellevue Downtown Ice Rink.
Q: Tell us about Sweeney Conrad's involvement with the BDA.
A: I've been on the board for at least 10 years, myself. Prior to my involvement, Dennis Conrad was on its board for many years and also served as Board Chair. Sweeney Conrad has many clients, referral sources, and friends in Downtown Bellevue and I love the chance to connect with them as often as possible.
Q: What are some of the "hot button" issues that the BDA (and Downtown Bellevue, in general) have on their plate?
A: There are many. Arguably the hottest market in the country, massive growth is occurring and it's important that the infrastructure be in place as soon as possible. Amazon is moving 25,000 employees into Downtown Bellevue over the next five years, and that is super exciting! Microsoft already has a significant presence in Downtown Bellevue. Whether we're talking about the traditional central business district or the newer Spring District, such dense areas have unique infrastructure needs.
Transportation is a key challenge. It's important that employees, shoppers, and residents can easily get where they want to go. We also want to make sure there are the amenities these groups are looking for, whether that means parks, concerts, festivals, and so on. On top of all of that, Downtown is the fastest growing residential neighborhood in all of Bellevue. And all of these new employees will need someplace to live.
The economic effects of COVID-19 have been especially difficult for our smaller retailers and restaurants. In an attempt to help out, the BDA has created a Downtown-wide marketing campaign celebrating local businesses. This includes social media posts highlighting local business offerings, sharing stories of the people behind these businesses and highlighting the best takeout specials in town.
Q: Thanks, Dave. Any parting words?
A: I encourage each of you to go downtown and "shop local". And if you want to learn more about what the BDA is doing, or to get involved, visit: www.bellevuedowntown.com