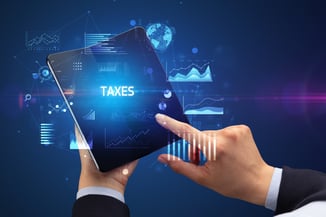 Are you a Sweeney Conrad client?
Keep an eye on your inbox for an email with the subject "Sweeney Conrad, P.S. has invited you to create your free TaxCaddy account!"
The email will outline some of the features of TaxCaddy, and will include a link for you to get started. If you like, you can create an account using their dynamic password feature. This uses text messaging to help keep your account extra secure. Used TaxCaddy before? You can also log in with your existing account to bring your current digital organizer with you.
What to Expect
When we need to request documents from you you'll receive an email. These may also contain informational messages from your tax professionals.
You'll be able to see all pending requests from your tax team in the app as well. The app will guide you through steps like:
Signing engagement letters

Starting or completing questionnaires

Starting or complete tax document uploads

Completing fillable forms
Once you complete any outstanding items you can notify us by pressing the "done uploading" button.
Uploading documents can be done in a variety of ways. You can take a photo of the documents using the TaxCaddy smartphone app, upload the documents from your computer, or link your account to Google Drive, or even directly to many financial institutions to provide the document in question.
Your documents are secure in your Tax Caddy digital organizer, and only accessible by you and Sweeney Conrad. You will have the control to provide access to other TaxCaddy users, such as a spouse, financial planner, bookkeeper other family member.
Things to Remember
There's a few important things to keep in mind as you work with TaxCaddy:
Make sure tax documents are being uploaded to the correct year

Documents uploaded after the fact, such as IRS notices, should be followed up on with additional communication with Sweeney Conrad
You can check out TaxCaddy's demo site here if you'd like to see some of these features in action.
Remember that we're here to help! Please feel free to reach out to Sweeney Conrad with any questions about using Tax Caddy. We can't wait to get started!