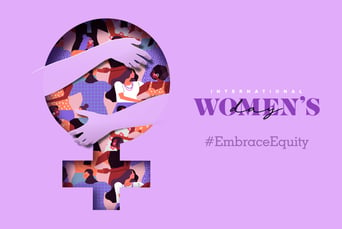 Today is International Women's Day, and it's an important day on our calendars here at Sweeney Conrad. The role of women in the accounting field cannot be overstated. Over half of our team is made up of women, and it's deeply important to us to continue to drive efforts to create more equity for women at our firm, in our community, and in the world at large.
To that end, we have an action group at Sweeney Conrad called the SC Women's Network. This group is open to everyone, but is focused on continuing to ensure that we create the very best work environment for women at the firm. What's so great about this network is that when we create more equitable and positive spaces for anyone, everyone wins. This is exemplified in an excellent quote from Jane Fonda, shared by SCWN member and Senior Audit Manager Jill Kinney: "Feminism is not just about women; it's about letting all people lead fuller lives." We couldn't agree more!
The Sweeney Conrad Women's Network plans events for members and non-members to celebrate the achievements of women at the firm, create a dialogue about ways to make our community more equitable for women, and have fun! Many events hosted by the network are open to everyone at the firm, but some are also held just for women, as needed and appropriate. Everyone at Sweeney Conrad is so thankful for the work that the network does, and the positive influence it has on our organization and community.
This year, we're celebrating International Women's Day with a lunch centering this year's theme of "Embrace Equity." We're looking forward to sharing ideas and concepts to help everyone at the firm to understand what this theme is all about.
If you're not familiar, this year's theme is about highlighting how presenting equal opportunities isn't the only piece of the puzzle for creating an equitable future for all people. Many women come from different backgrounds, with different degrees of privilege and access to opportunities. To truly embrace equity we must do the work to not only create equal opportunities, but ensure that we make those opportunities equitable to people who don't necessarily have equal access to them.
To learn more about this year's International Women's Day theme, and how you can get involved, check out their website here!