At Sweeney Conrad, we feel extremely fortunate to be a part of such a vibrant, generous, and supportive community. To that end, in late 2016, we developed our One Good Deed Program to give back, thank our referral sources, and nurture our referral relationships.
Now, three years later, we are excited to announce that our program has made a difference in over 45 organizations in the Pacific Northwest and across the United States.
The program is simple. When a contact makes a referral to Sweeney Conrad of at least $3,000 of new business, we make a $250 donation to the not-for-profit of their choice. It's a way to keep the cycle of giving going!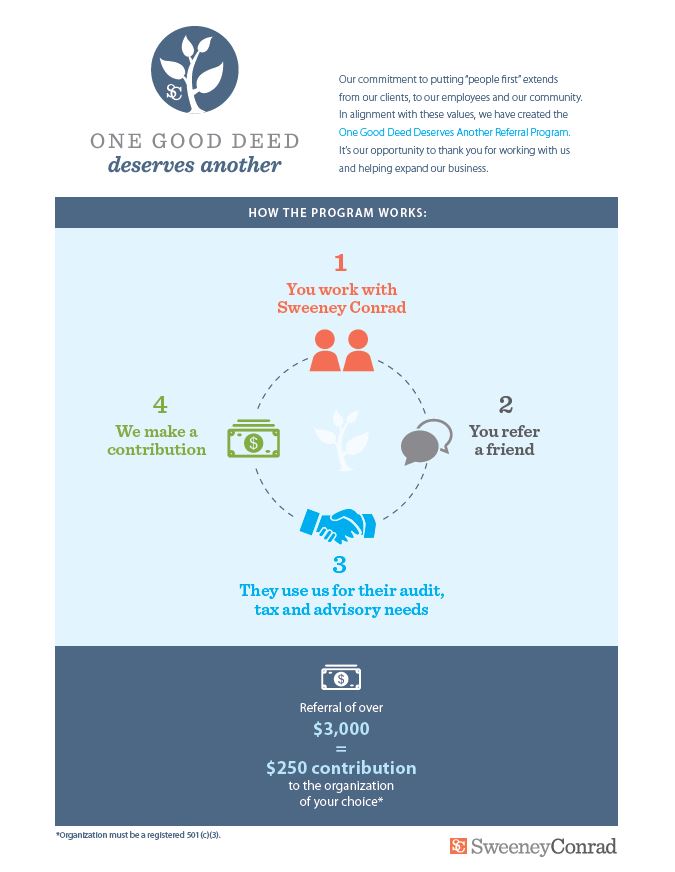 Some of the organizations that One Good Deed has benefited include:
FareStart
Seattle Children's Hospital
Seattle's Union Gospel Mission
Rescue Freedom
Earth Corps
Huntington's Disease Society of America
Overlake Medical Center Foundation
Displaced Orphans International
Boyer Children's Clinic
Stolen Youth
Questions about One Good Deed? Contact Emily Taibl, Sweeney Conrad Corporate Giving Action Group at etaibl@sweeneyconrad.com.