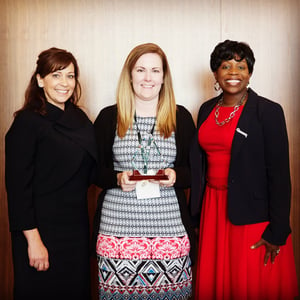 This month Brittany Malidore, Senior Associate of Client Account Services at Sweeney Conrad, was named by the Washington Society of CPAs (WSCPA), as their 2018 Rising Star. The award recognizes a WSCPA member who is in the process of obtaining a CPA License for active WSCPA leadership, dedication, and service. Candidates are nominated anonymously by their peers and the award is open to any member in Washington state.
"Brittany is regularly rallying the membership to attend events, drumming up sponsors for chapter activities, and sharing the various events the chapter will be doing," said David Miniken Shareholder at Sweeney Conrad and former WSCPA President.
We caught up with Brittany to talk about what the award means to her, and where she finds her inspiration.
What does being a "Rising Star" mean to you?
This question is extremely hard to answer because its difficult to express how much this means to me? When you're in the day to day it's hard to recognize the impact that you're having, and sometimes tough to know if all of the hard work is worth it. My journey has been far from easy. Winning this award means that a non-traditional student like myself, who does not fit the typical mold, can be just as successful as anyone else. It means that all of those sleepless nights and days away from my family were worth it. It means that my peers see something in me that inspired them. The WSCPA has given me opportunities at every turn, and at every turn I tried to make an impact, be meaningful, and show that I am truly dedicated to the profession.
Being a "Rising Star" means that I am on the right path- and I can't wait to see what the next year holds.
How has the WSCPA helped you build your career?
Over the past two years, I have had the honor of being a part of the WSCPA Society as a Student Member, Chapter Leader, Scholarship Review, Panelist and Volunteer. The WSCPA society provides current and future CPAs with a sense of community, advocacy and opportunity. They have provided more value to my career than I will ever be able to return. Through the WSCPA, I have been given the opportunity to lead my peers, meet incredible leaders in our industry, and fully immerse myself in what it means to be a future CPA.
What are you most excited about (or looking forward to doing) in your career?
Growth. Opportunity. Mentorship.
I am excited for the opportunity to grow as a professional, mother and networker. I have an extreme passion for Client Service. I love being able to help clients with their accounting needs, so that they can build or invent the next best idea. Every great business owner needs a passionate, driven, successful accountant by their side.
Who are your mentors and what have they taught you?
During my time at UW Bothell, I realized that it would be imperative to find a mentor. As a non-traditional student, I struggled to keep up with the other students in my class. I was a non-traditional student, whose husband was deployed, working full-time at a CPA firm, and was pregnant with my fifth child during my senior year. What was I thinking? It was extremely painful knowing that I did not fit the model of what an accountant and new graduate looked like.
It wasn't until I met Professor Ron Tilden that I realized I had more to offer. Professor Tilden took me under his wing and met with me one-on-one to ask me the hard questions that no professor had asked me before. What was my end goal? Where did I want to be in 5 years? Should I do fall recruiting? Was I okay? Professor Tilden took the time outside of class to coach and mentor me as I was faced with decisions that most students would never face. He saw something in me that I was not able to see until after graduation. He saw that I was not an outcast, that I was going to change the future somehow, and he recognized my passion for our profession.
Over the next two years, Professor Tilden was my biggest supporter and mentor. He provided insight when asked; he listened when I needed someone to hear me, and he introduced me to the WSCPA. I am extremely thankful for my mentor. Professor Tilden is one of the top professors at UW Bothell and I hope that one day I can provide students that same mentorship he provided to me.