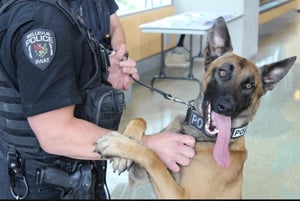 It is an honor and a privilege to support the Bellevue Police Foundation. As a Bellevue-based organization, Sweeney Conrad feels the direct results of the hard work that the Bellevue Police Officers do on a daily basis, as we operate our business in a community where we feel safe and protected.

We've been involved with the Bellevue Police Foundation for over 8 years. Our Director of Audit Shareholder Craig Looper began as a Treasurer on the board in 2011, and was replaced by Senior Tax Manager, Shauna Hovanscek in 2016.
This week, on March 15th, the Bellevue Police Foundation hosts their annual fundraising breakfast, Bold for the Blue. In honor of the hard work they are doing, we took a few minutes to catch up with Bellevue Police Department's Major John McCracken to get his take on the impact that the foundation has on our community.
SC: What is your role at the Bellevue Police Foundation?
MM: I'm one of the administrative staff who sits on the board, I help with planning and organizing the breakfast, and I've even emceed one of our events! My role is to provide context to the board members on why the department is asking for the things we are asking for. I can tell the board from firsthand experience the significance of each piece of equipment, and how it helps us do our jobs better, and in turn makes the Bellevue community safer.
One of the coolest things about sitting on the board is being part of such a great group of people. They are truly passionate about keeping our city safe.
SC: Can you tell us a little bit about the Bellevue Police Foundation and its purpose?
MM: The foundation was created to tap into resources of the community to fund programs that our budget simply cannot fund. Currently less than 2% of our annual budget goes to discretionary equipment. We are talking about equipment that makes us better and safer at our jobs, and helps us keep pace with rapidly changing technology, training techniques and strategies.
SC: How are funds raised at the breakfast used?
MM: This is our tenth breakfast, although the foundation has been around for 11 years (the first year was focused on development). The funds we raise at the breakfast are instrumental in funding projects both big and small. Past donations have helped fund crime analysis software, K-9s and K-9 ballistic vests, SWAT hi-power lasers for rifles, bomb squad cap containment devices and probes, bicycles and equipment, and a new crisis response van equipped to respond to standoffs where we need to negotiate safe surrender. That is just to name a few.
This year, one of the greatest needs we are trying to fill is a force simulator. In effect, this is a giant video game where we can simulate situations on a 300-degree set of screens. Our current simulator was outdated, and eventually we had to retire it. This piece of equipment is invaluable to our department in doing basic firearms instruction for new officers, as well as training for the most difficult real-world situations including ambushes and active shooters.
We truly appreciate all donations both big and small- 92% of every dollar donated directly supports the Bellevue Police Department.
We are grateful for Major McCracken's time, and all that the Bellevue Police Foundation is doing. To learn more about the work they are doing, see a recap of the projects that they have previously been funded, to donate, or to register for the breakfast visit www.bellevuepolicefoundation.org.