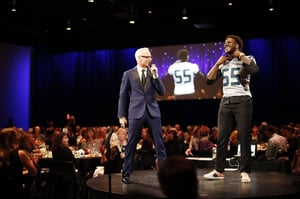 Mission Pursues Good
Seattle's Union Gospel Mission is a Christian organization with a mission to serve, rescue, and transform those in greatest need. By providing 24/7, 360-degree support services for homeless people in King County, the Mission seeks to be a consistent friend to those who are isolated and have lost hope.
Some statistics:
In the last year, the Mission has:
Served 857,439 meals (2,350 meals a day!)
Provided 2,506 hot showers (in the shower trailer)
Gotten to know 3,014 names of our neighbors on the street
Provided 149,719 nights of safe shelter
Distributed 33,083 Search & Rescue blankets
A Powerful Evening
Last week Sweeney Conrad, on behalf of our Managing Shareholder and Mission Board Treasurer John Forrest, sponsored a table at Seattle's Union Gospel Mission Catalyst Gala and Live Auction. The evening was a mixture of tears, laughter and no shortage of inspiration - as we made the commitment to "pursue good."
We were welcomed to the event by a bold exhibit featuring large black and white images of homeless men and women in Seattle, answering the question, "My dream is…." The responses were powerful statements including: "My phone was stolen. I wish I had one because it's the only way I have communication with my children" (Katie) to dreams of making a difference in the world like: "I want to save the environment and recycle" (Nick). This was just the beginning of the journey into a life that many of us have never had to experience.
Turning the corner, we were offered the opportunity to experience firsthand a day in the life on the streets, through virtual reality. Next we were encouraged to add our dreams to a giant display asking what our vision for a new Seattle would be. We could sign the wall among comments like "my dream is that everyone in Seattle would have a friend" or "my vision is that no one in Seattle would go hungry."
As we took to our seats, Emcee Jim Dever welcomed us with the staggering statistic: "Right now there are 12,112 people in Seattle without a place to call home. We don't say '12,112 of THE homeless.' We say '12,112 neighbors — 12,112 FRIENDS!'"
The evening continued with the entertaining antics of auctioneer John Curley, appearances by Bam Bam Kam Chancellor, and Seahawk Frank Clark who shared that he too had once been homeless. We were touched by the story of Jim who had been found living in his car without having stepped outside for 14 months, inspired by Patsy who shared her tale of going from a life of addiction to one of helping others, and the upbeat story of The 118, a group of men who have turned their unfortunate life circumstances into a powerful craft making beautiful furniture from reclaimed wood.
The take away was one of not only hope for our 12,112 brothers and sisters on the streets, but the desire to pursue good- as Seattle's Union Gospel Mission pursues good day in and day out tirelessly serving and giving another chance to those who feel like they have nowhere to turn.
To learn more about the Mission and how you can support their efforts and pursue good, visit www.ugm.org