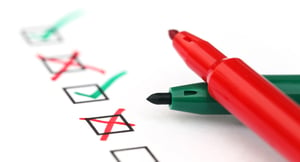 In 2015, the Department of Labor (DOL) issued a report titled "Assessing the Quality of Employee Benefit Audits, summarizing their inspection of 2011 employee benefit plans. Their findings showed that a shocking 39% of employee benefit plan audits (nearly 4 out of 10) contain major deficiencies with respect to one or more relevant GAAS requirements. These deficiencies are such that they would lead to a rejection of Form 5500 putting $653 billion and 22.5 million plan participants and beneficiaries at risk. That is not very reassuring when it comes to choosing a firm to trust with this very important task!
Following the release of this information, the DOL sent a letter to employee plan administrators to educate them on what to look for in a quality firm. According to the DOL, "Substandard audit work can be costly to plan administrators and sponsors. It both jeopardizes plan assets and can result in civil penalties being imposed on the plan administrator."
So what should you look for in a quality auditor? Here are five questions to ask when evaluating audit firms:
How many plans do you audit each year?

The more audits a firm performs usually results in fewer deficiencies.

Experience and expertise are key.

Was your firm selected for inspection in the Audit Quality Study by the Department of Labor?

If so, what were the results? Shoot for a firm with few to no deficiencies (Sweeney Conrad has zero!)
Has your firm been part of the AICPA's Peer Review Program?

This program was created to "enhance the quality of accounting, auditing and attestation services performed by its members."

If the answer is yes, can we review your report?
How does your firm provide consistency?

Keeping a team together can be key to getting a quality audit- so don't be afraid to ask what the firm's turnover is, and how they plan to provide stability on your account.
Will I get experienced auditors assigned to my engagement? Quality audits require knowledgeable and experienced team members.

You shouldn't be responsible for training a firm's new staff.


Interested in learning more about finding a quality auditor?
Questions? Contact Wende Wadsworth at wende@sweeneyconrad.com or 425.629.1926.