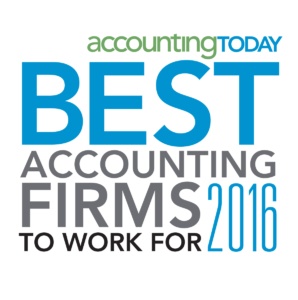 By Agata Wine
For the fourth year in a row, Accounting Today has named Sweeney Conrad one of the best accounting firms to work for in the U.S. We definitely think this is a great place to work and are excited and honored to make this list year after year! Below are just a few things that set Sweeney Conrad apart from other CPA firms and truly make it the best place to work.
Awesome people. Sweeney Conrad is built on the foundation of "people first" and that begins with our employees. We consider our employees family and take great pride in this. Everyone on our team is smart, friendly, and approachable. Our open-door policy makes it easy for even the newest of hires to chat with and ask questions of the managers and partners, who are always welcoming, responsive, and willing to share their knowledge. In my opinion, the people you work with are the most important part of your job and the Sweeney Conrad crew definitely does not disappoint. The people here make work fun, even during busy season!
Positive work culture. At Sweeney Conrad, we're encouraged to maintain a healthy work/life balance. The partners place great trust in our team to get the work done and provide the highest level of client service, while acknowledging that life happens and sometimes the work will get done outside the office. Sweeney Conrad offers and supports flexible schedules, which is great for parents—especially new moms making the difficult transition back to work! The firm also recently switched to a "dress for your day" policy, which includes wearing nice jeans as business casual if it makes sense for your day (that is, you have no client meetings scheduled and aren't attending any business networking events that require business casual). During busy season, a good work/life balance can be harder to achieve, but our leaders lighten our load by providing dinner two nights a week, lunches on Saturdays, and an abundance of healthy snacks to help get us through the long days. To compensate for all of those busy season hours, we also get to work half-day Fridays all summer long!
Lots of growth opportunities. Sweeney Conrad is growing at an exciting pace, which translates into a variety of career opportunities. Many team members have been with the firm since the beginning of their careers and plan to retire with Sweeney Conrad, which just goes to show how great this place really is! The firm provides access to great training and networking events that help you get the skills and connections you need to be the best at what you do. As a member of Allinial Global (an association of legally independent accounting and consulting firms), we collaborate with nearly 100 firms in 42 states and 13 countries, which is an incredible resource and a great way learn from others in our field. As a midsized accounting firm, we have regular access to partners and get the opportunity to work with our awesome clients on a more frequent basis, which is something many of the larger accounting firms don't offer. With so many amazing resources and opportunities, Sweeney Conrad offers something unique that will work for accountants at every stage of their career.
Commitment to our community. Sweeney Conrad is a charitable group of individuals who believe in giving back to the community. Our partners serve on multiple Puget Sound nonprofit boards, we volunteer for a wide variety of community activities, and every year we participate in Food Frenzy for Food Lifeline. This year, we raised nearly $10,000 in just two weeks through hosting fun events like the chili feed, jeans days, bake sale, partner/manager car wash, volunteering at the Food Lifeline warehouse, freaky food fest eating contest, and more!
Focus on fun and family. Our firm not only talks the talk, but also walks the walk when it comes to balancing work and life outside the office. Throughout the year, we get together as a firm for quarterly happy hours, community activities and our annual Family Day, held this year at Remlinger Farms in Carnation. We also look forward to our annual firm bonding retreat at Hood Canal, where we eat, chat, laugh, compete in events (like giant JENGA, minute-to-win-it relays, row boat races and more), and truly enjoy each other's company away from the office.
Sweeney Conrad is proud to be named one of the best firms to work for—mainly because we couldn't agree more. If we sound like your kind of people, come be one of our people! Check out our current openings and how to apply.